When was the last time you really had fun, I mean, REALLY had fun?
Great Food, Great Wine, Great Adult Beverages and A Great Band!

Friday, October 26, 2018 • 7:00 PM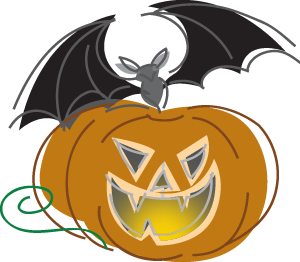 Halloween is an annual celebration, but just what does it actually celebrate, and how did this peculiar custom originate? Is it, as some claim, a kind of demon worship, or is it just a harmless vestige of some ancient pagan ritual?
The word "Halloween" actually has its origins in the Catholic Church. It comes from a contracted corruption of All Hallows Eve. November 1, "All Hallows Day" (or "All Saints Day"), is a Catholic day of observance in honor of saints. But, in the 5th century BC, in Celtic Ireland, summer officially ended on October 31. This holiday was called Samhain (sow-en), the Celtic New year.
One story purports that, on this day, the disembodied spirits of all who had died throughout the preceding year would come back in search of living bodies to possess for the next year…it was believed to be their only hope for the afterlife. The Celts believed all laws of space and time were suspended during this time, allowing the spirit world to intermingle with the living.
Naturally, the still-living did not want to be possessed. So on the night of October 31, villagers would extinguish the fires in their homes to make them cold and undesirable. They would then dress up in all manner of ghoulish costumes and noisily parade around the neighborhood, being as destructive as possible in order to frighten away spirits looking for bodies to possess.
The custom of trick-or-treating is thought to have originated not with the Irish Celts, but with a ninth-century European custom called "souling." On November 2, All Souls Day, early Christians would walk from village to village begging for "soul cakes," made out of square pieces of bread with currants. The more soul cakes the beggars would receive, the more prayers they would promise to say on behalf of the dead relatives of the donors. At the time, it was believed that the dead remained in limbo for a time after death, and that prayer, even by strangers, could expedite a soul's passage to heaven. Although some cults may have adopted Halloween as their favorite "holiday," the day itself did not grow out of evil practices. It grew out of the rituals of Celts celebrating a new year, and out of Medieval prayer rituals of Europeans. And today, even many churches have Halloween parties or pumpkin carving events for the kids. After all, the day itself is only as evil as one cares to make it. 
A Complimentary Cocktail Hour 7:00 to 8:00 p.m.
Hors-d'oeuvres
A fine assortment of smoked seafood, tuna tartare and paté canapes.
Dinner & Dancing 8:00 to 11:00 p.m.
Cream of Erie County Pumpkin Soup, Toasted Pumpkin Seeds
A baby pie pumpkin, filled with puréed pumpkin soup, and Vermont crème fraîche, topped with toasted pumpkin seeds, pumpkin seed oil and nutmeg.
Pinot Gris, "Alexana", Willamette Valley, Oregon, 2017
Maine Scallop & Lobster Risotto
Seared sea scallop served with lobster risotto.
Chardonnay, "Calera", Central Coast, California, 2017
Char-Grilled Filet Mignon, Hickory Smoked Wild Mushroom Sauce
Center cut filet mignon served over herb risotto, topped with a seasonal wild mushroom sauce, garnished with seasonal vegetables.
Red, "Paraduxx", Duckhorn Wine Company, Napa Valley, California, 2017
Or
Florida Hog Snapper, Golden Delicious Apple Bénédictine Butter Sauce
Sautéed hog Snapper from the Gulf of Mexico, lightly breaded with almond flour topped with an apple Bénédictine butter sauce, mousseline potatoes and seasonal vegetables.
White Chocolate Mousse Torte, Huckleberry Sauce
A rich white génoise cake filled with white chocolate mousse topped with Chantilly cream icing, finished with a huckleberry sauce.
Downstairs Dining Room $120 per person, Tax & Gratuity not included
Our 13
th
Annual Halloween Party will be held on Friday, October 25, 2019.
We have booked Less Than 88 to perform downstairs in the Main Dining room. Find your favorite costume and book this event early.