Wednesday, Nov. 25, 2020
6 pm
Every year the Wednesday before Thanksgiving is one of the busiest "Bar" days of the year. Friends, relatives and young college adults travel back to their hometown for a long weekend getaway.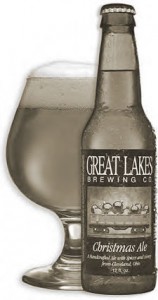 Several years ago we introduced "The Twelve Beers of Christmas" featuring twelve holiday beers from around the world. We searched the marketplace for a dozen unique holiday beers, and we actually found sixteen! This year our goal is more. Chef John D'Amico will feature a selection of fine hors-d'oeuvres.
Winter Cheers "Hazy Wheat Ale", Victory Brewing Company, Downingtown, Pennsylvania
Soufflé au Fromage, Pancetta Bacon  
Quail egg served in a ramekin filled with aged Gouda cheese fondue and grated Parmesan Reggiano cheese, topped with a pancetta bacon.
Three Hos, Saucy Brew Works, Cleveland, Ohio
Christmas Ale, Great Lakes Brewing Company, Cleveland, Ohio

12 dogs of Christmas Ale , Thirsty Dog Brewing Company, Akron, Ohio
Brasied Short Rib, Cassoulet de Chez François
Simmered short rib in its natural juices, served with white beans and root vegetables topped with crunchy applewood smoked bacon
Winter Solstice, Anderson Valley Brewing Company, Boonville, California
Christmas Ale, Anchor Brewing, San Francisco, California
Alpha Klaus "Christmas Porter", Three Floyds Brewing Company, Muncie, Indiana
House-Cured Kurobuta Pork Belly,  Glace de Viande
Roasted Black Berkshire pork belly simmered in Xmas Ale, served sweet potato and fall squash.
Christmas Ale, Brouwerij Corsendonk, Du Bocg· Purnode, Belgian
Deliruim "Noël", Brouwerij Huyghe, Melle·East Flanders, Belgian

Christms Ale, Brouwerij St. Bernardus, Watou, Belgian
Pecan & Chocolate Tart, Bourbon Crème Anglaise
A tart filled with caramel custard with pecans and chocolate, topped with Chantilly cream, served with Madagascar French vanilla bean ice cream and bourbon crème anglaise sauce.
Campfire Amplifier  "Milk Stout", Dogfish Head Craft Brewery, Milton, Delaware Double Double Chocolate Stout, Rogue Newport, Oregon
$75 per person. Tax & Gratuity included!