The Main Dining Room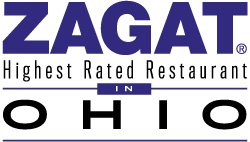 Sophisticated, Romantic, Elegant and Old World Charm are just a few words that describe our Main Dining Room. The heart and soul of Chez Francois will always be the Main Dining Room and for Special Occasions there is no finer restaurant in Ohio. We are one few restaurants that has a dress code (Dining Jackets for Gentleman) and once again we are the highest rated Zagat restaurant in Ohio, as excerpted below:
"The crème de la crème when it comes to exceptional, beautifully-plated French food and a world-class wine list, this lakeside destination in Vermilion again takes the title of No. 1 for Food in the Cleveland area. Patrons will delight in the quaint, romantic interior, beautiful outdoor patio on the canal and tight ship of a staff who shows careful attention to detail. Reviewers agree it's the ultimate celebration place when looking to splurge and the specialty dinners throughout the year should not be missed." – Zagat Guide 2013
I had the pleasure of again dining at Chez Francois. It's my 4th or 5th time, and part of me keeps waiting for the quality to slip, for a bad dish to cross the table, for service to be bland or disengaged. Not hoping for that, mind you, but wondering when it will happen, because one thinks it has to, except it doesn't. In short, dinner at Chez is a treat. For those familiar with the area, it's the Millennium Force of restaurants, a wild ride for your taste buds. Keep your hands and feet inside the ride at all times, and enjoy! – Yelp Review April 2013
Riverfront Dining Room
Casual, yet sophisticated, one can imagine themselves anywhere in the world while you dine outdoors at the Riverfront Café. The Café debuted in 1998 at a time when there were very few riverfront dining restaurants in Ohio, let alone any that were upscale. Twenty-seven years later we have refined outdoor fine dining to a science. The menu is the same as indoors with a few additional light meals. We always take reservations and we have three adjacent docks available for your boat. Call for details.
Touché
Our Martini/Wine Bar is a popular gathering place for locals and visitors passing through Harbourtown. Guests love Touché because it's casual, impromptu (no reservation needed), comfortable, and a menu that offers small plates of delectable cuisine as well as a prix fixe menu. Touché offers twenty wines by the glass, a great collection of hand-crafted beers from around the world, well-made martinis and great sipping whiskeys (Single Malt Scotch & Bourbon), tequilas and rums.
The Parisian Room
The Parisian Room has evolved into a room with a purpose, where the purpose changes with each special event and is always different. From 50th birthday parties, to fundraising events, to baby showers, there is no formal menu or restrictions. We always cater to your needs and budget.
We are always honored when patrons entrust us with their special occasion, it drives us and gives us purpose.
[fblike style="standard" showfaces="false" verb="like" font="arial"]