The word chowder is probably derived from the French word chaudière: a large cauldron aboard a ship into which fishermen would throw fish to make stew.

Thursday, October 6, & Friday, October 7, 2022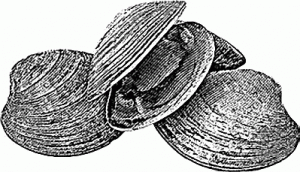 Clam bakes have always been a popular event in Northern Ohio. In fact, the history of the clambake in Northern Ohio can be traced to just after the Revolutionary War when farmers whose farms and homes were destroyed by war were offered inexpensive land in the Western Reserve and Firelands which is now the North Coast of Ohio. Fall clambakes were one the traditions the settlers brought with them.
We feel that our clambake is one of the best because we purchase our food products from the best purveyors in the country and we have featured clambakes in October for the past twenty years! We purchase farm-raised Littleneck Clams from Maine, Prince Edward Island mussels from Nova Scotia, lobster caught off the coast of Massachusetts & Maine, and top quality, fresh and prepared just right.
Amuse Bouche
Erie County Pumpkin, Parmigianino-Reggiano Cheese Espuma
A purée of pumpkin soup topped with a Parmigianino-Reggiano cheese foam.
First Course
 A Medley of Steamed Little Neck Clams & Prince Edward Island Mussels
One dozen Little Neck Clams and a half dozen Prince Edward Island Mussels served in a rich clam broth with herb butter.
Extra clams and mussels $30
Second Course
New England Clam & Corn Chowder Soup, Toasted Corn Nuts
Creamy chowder of clams, corn, potatoes, celery, and onions seasoned with garlic and thyme, topped with toasted corn nuts.
Third Course
Stuffed Maine Lobster with Shrimp & Seared George's Bank Sea Scallop
One half of a Maine Lobster stuffed with lobster and shrimp served with a Normandy wine sauce, topped with a Georges Bank sea scallop, accompanied with a sweet potato mousseline and buttered fall acorn squash.
Add a filet 6.5 ounces, $35
Fourth Course
Apple Frangipane Tart, Madagascar French Vanilla Bean Ice Cream
An apple frangipane tart filled with Ohio golden delicious apples served with Madagascar French Vanilla Bean ice cream and an apricot glaze.
$105 per person Tax & Gratuity not included