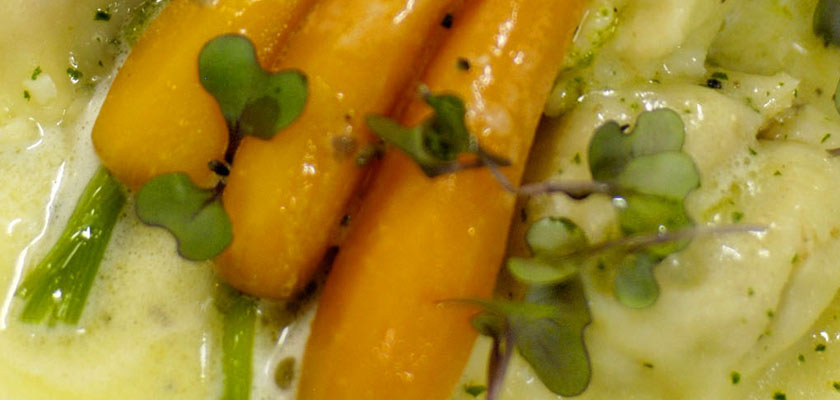 [twocol_one]
Hors d'oeuvres
Soupe a L'Oignon Gratinée $12
French onion soup with toasted crouton and Gruyère cheese.
Homard Bisque, en Croûte $14
Rich lobster bisque seasoned with garlic, shallots and tarragon topped with puff pastry.
Artichaut à l'Alouette $12
California artichoke hearts, sautéed, stuffed with alouette cheese, lightly breaded with hazelnuts and served with a Dijon honey mustard/raspberry sauce.
Escargot Basilic $15
Snails served in the shell with a blend of sweet basil, garlic, shallots and sweet butter.
Homard et Saint André en Croûte $15
Maine lobster and Saint Andre cheese wrapped in puff pastry, baked, served with a black currant sauce.
Coquilles Saint-Jacques à la Parisienne $18
Maine sea scallops, sautéed, served in a fish veloute sauce, with mushrooms, seasoned with garlic, shallots, Dry Sack Sherry, and Reggiano cheese. Served in a natural sea shell with duchess potatoes.
Martini de Crevettes $19
Shrimp cocktail served with and avocado, cucumber, red onion salad & cocktail sauce.
Carpaccio de Filet de Beouf aux Champignons Sauvage $20
Carpaccio of "Prime" beef tenderloin, topped with aged balsamic vinegar, Alba white truffle oil, shave Parmigiano-Reggiano cheese, cracked black peppercorn and sautéed wild mushrooms.
Truite Fumée, Cécile $16
Natural apple wood smoked Rainbow Trout served with marinated asparagus and a chive infused olive oil.
Pâté Maison $15
Chicken liver pâté with green peppercorns, hard boiled egg, red onion, mushrooms, caperberries, calamata olives, cornichons and crackers.
[/twocol_one]
[twocol_one_last]
Entrees
Saumon au Raifort, Maitre d'hôtel $38
Seared filet of Atlantic Salmon topped with fresh horseradish crust and an herb butter sauce.
Assiette de Coquillage au Basilic $40
Medley of shellfish including, cold-water shrimp, Maine sea-scallops, Prince Edward Island mussels, Pasta Neck clams and escargot served over spinach fettuccini with mushrooms, diced tomatoes, Calamata olives and Parmigiano-Reggiano cheese, basil-infused olive oil..
Escalope de Veau aux Fruits de Mer $39
Sautéed breaded medallions of Provimi veal tenderloin with Maine lobster, cold water shrimp, Maine sea scallop and asparagus spears, topped with a Normandy wine sauce with fresh dill.
Ris de Veau Grenobloise $38
Sautéed medallions of veal sweetbreads in a caper/crouton lemon wine butter sauce.
Suprême de Volaille aux Noisettes et aux Crustacés $36
A roasted French breast of free-range chicken, with cold water shrimp, Maine lobster, a hazelnut sweet potato mousseline cake, sauced with an apple and mushroom Frangelico cream sauce.
Roasted Maple Leaf Farm Duck Breast, Cherry Glace de Viande $39
A lightly-peppered duck breast served over a hazelnut sweet potato mousseline cake, topped with Montrachet goat cheese and sauced with a Frangelico and cherry duck glace de viande.
Carré d'Agneau à la Provençale $49
Roasted Australian rack of lamb, topped with a roasted tomato-herb crust, summer beans, braised cipollini onions, eggplant, garlic, and olive sauce au natural.
Filet de Bœuf Naturel, Glace de Viande $44
Center-cut filet mignon, grille, served over potato galettes and mousseline potatoes, garnished with seasonal vegetables and finished sauce au natural.
Filet de Boeuf Wellington à la Périgourdine $52
Center-cut filet mignon, grilled, wrapped in puff pastry with Hudson Valley foie gras, mushroom duxelles and black truffles with sauce Perigueux.
[/twocol_one_last]