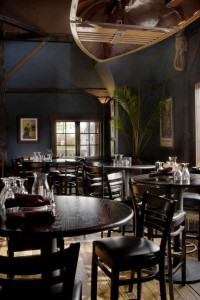 A sample of our extensive menu
Touché Hours:
Thursday: 5 to 9 p.m.
Friday: 5 to 10 p.m.,
Saturday: 4 to 10 p.m.
Hors D'œuvres
Charcuterie – $22
Saucisson, country pâte and chicken liver pâté, served with marinated relishes and shaved Parmigiano-Reggiano cheese, crostini and Dijon mustard.
Maine Scallop & Lobster Risotto – $16
Seared Maine sea scallop, served with lobster risotto and garnished with micro greens.
Ahi Tuna, Daikon Radish Salad, Vinaigrette – $25
Cold lightly seared premium Ahi Tuna, toasted sesame seeds, with a daikon radish & heirloom tomato salad, vinaigrette dressing.
Duck Confit & Goat Cheese Flat Bread – $15
Baked flat bread topped with duck confit, dried cherries finished with goat cheese.
Escargots, Basilic – $15
Snails with seasonal wild mushrooms, a blend of sweet basil, garlic, shallots and sweet butter, Gruyère cheese French baguette.
Lobster Ravioli, Parmigiano-Reggiano Cheese – $18
Egg pasta Ravioli, stuffed with lobster, topped with a truffle butter sauce and garnished with shaved Parmigiano-Reggiano cheese.
Mussels, Smoked Salmon – $16
Steamed Prince Edward Island mussels, tossed with a Normandy cream sauce, smoked salmon, white wine, garlic and chopped parsley. Topped with a fleuron.
Carpaccio de Filet de Boeuf – $20
Carpaccio of "Prime Beef", paper-thin slices of beef tenderloin, garnished with baby arugula salad with an aged balsamic vinaigrette dressing, shaved Parmigiano-Reggiano cheese
Potages & Salades
Soupe à L'Oignon Gratinée – $12
A terrine of French onion soup with a toasted crouton and topped with Gruyère cheese.
Homard Bisque, en Croûte – $14
Rich lobster bisque with tarragon, topped with puff pastry.
Chez François Hiver Grande Salade – $12/ Petit $6
Winter Erie County greens, tossed with vinaigrette dressing, English cucumbers, roasted beets, Bermuda red onions, hard boiled eggs, tomatoes and crumbled goat cheese.
Les Plats
Bouillabaisse – $25
A rich fish soup of mussels, shrimp, white fish, salmon and root vegetables, saffron tagliatelle noodles, tomato saffron broth.
Perch, Jicama & Napa Cabbage Coleslaw – $20
Panko-breaded Perch over jicama, cucumber & pickled ginger slaw, a radish curl, citrus cayenne olive oil and Touché tartar sauce.
Shrimp de Jonghe – $18
Gulf of Mexico shrimp in rich garlic butter with fine herbs, served with Gruyèye cheese focaccia garlic bread.
Steak Frites, Bercy Butter – $35
"Ohio Proud" Certified Angus Beef® Delmonico steak, grilled medium-rare and served with French fries and herb butter sauce.
Braised Ohio Proud Short Rib, Moroccan Barbeque – $25
Braised Ohio Proud short ribs, Moroccan barbeque sauce, stewed sweet potatoes, seasonal vegetable and fried sweet potato curls.
Chez François Herb Meatloaf, Brown Sauce – $20
Baked meatloaf with pork, veal and ground chuck served over mousseline potatoes, with a rich brown sauce, seasonal vegetables.
Britney Sarrasin Crêpes, Confit de Canard – $18
Savory crepes filled with duck confit and wild mushrooms, topped with a sunny side up egg, with savory duck glace de viande, garnished with steamed French beans.
Roast Chicken, Coq au Vin – $22
Roasted free-range chicken with applewood smoked bacon, Vidalia onions, mushrooms and red wine sauce with herb potatoes.
Braised Domestic Lamb Shank, Jardinière – $30
Braised lamb shanks, simmered in its natural juices served over cannellini beans with a jardinière of root vegetables, garnished with julienne celery and heirloom carrots.
Les Desserts
Mousse au Chocolat Belgique – $9
A rich Belgian chocolate mousse, topped with Chantilly cream, chocolate straw and mint.
Crêpe Suzette – $9
Twin crêpes filled with French vanilla bean ice cream, topped with a Grand Marnier Strawberry butter sauce.
Creme Brule et Fruits – $9
A baked egg and vanilla custard, topped with seasonal berries.
Pricing and availability subject to change. 
Please be advised that raw or uncooked beef, seafood, and eggs may be present in our dishes.