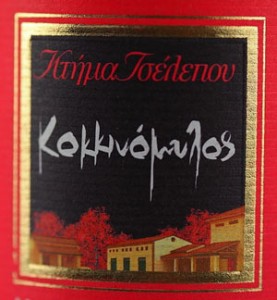 featuring Ktima Tselepos Winery and Bouzoukist Dimitri Kantis
Thursday, May 31, 2012 – 6:30 pm
Our Greek patrons have suggested for years that we host a Greek wine dinner. To which I have said, "when the time is right." We feel the time is right with the wines of Ktima Tselepos. This winery exceeds both with international varietals and indigenous Greek varietals and this is why we feel compelled to throw a party.
Tselepos Estate is a small family business. Is was founded in 1989 by Yiannis and Amalia Tselepos, who planted the first cabernet sauvignon and merlot vines on the foothills of Mt. Parnon, 14km from the town of Tripolis near the ancient city of Tegea, in the heart of Arcadia.

The region was originally selected because of its perfect terroir: clay-rocky soil and cool-climate viticultural conditions which we consider essential for the production of fine wines in Greece ́s hot, Mediterranean climate.
Aperitif / Mezze
A selection of fine Greek savory appetizers presented by Dion Tsevdos of Chef 2 Chef Foods.
Amalila "Brut" Sparkling Wine, Perpatiara, Greece, NV
Squid & Octopus Salad, Oregano Olive oil
A cold squid and octopus salad flavored with sun-dried tomatoes, assorted Greek olives, Feta cheese and caramelized onions with an oregano olive oil.
Moschofilero "Mantinia", Mantinia, Greece, 2008
Seared Mediterranean Bronzini, Fasolada
Seared Mediterranean Sea bass served over stewed braised fennel, tomatoes, carrots, onion, parsley, celery, cannellini and fava beans, garnished with fried chervil.
Gewurztraminer "Melissopetra", Arcadia, Greece, 2010
Spinach Strudel, Avgolemono Sauce
Baked spinach strudel with phyllo dough flavored with feta cheese, pine nuts, nutmeg, garlic, and red onions, brushed with olive oil sprinkled with toasted sesame seeds, Avgolemono sauce.
Chardonnay "Marmarias", Arcadia, Greece, 2009
Dolmathakia & Baby Heirloom Romaine Lettuce Salad, Kefalograviera Cheese
Stuffed grape leaves with Dolmathakia & tzatziki sauce, garnished with a cucumber, kalamata olive and heirloom tomato salad topped with shaved Kefalograviera cheese.
Agiorgitiko "Nemea Tselepos", Nemea, Greece, 2007
Roasted Roulade of Lamb, Ratatouille
A roulade of lamb stuffed with a lamb forcemeat flavored with Moroccan spices wrapped in cull fat seared and roasted served over stewed ratatouille.
"Kokkinomylos", Tegea, Greece, 2007
Cabernet Sauvignon/Merlot, Tegea, Greece, 2007
Baklava, Madagascar Vanilla Bean Ice Cream
Baked phyllo dough with walnuts, butter, sugar, cloves, cinnamon, and honey, accompanied by vanilla bean ice cream, topped with a rich honey glaze and sprinkles of ground pistachios.
$85 per person Tax & Gratuity not included
[fblike style="standard" showfaces="false" verb="like" font="arial"]