With Winemaker David Ramey of Ramey Wine Cellars
Wednesday March 4th, 2020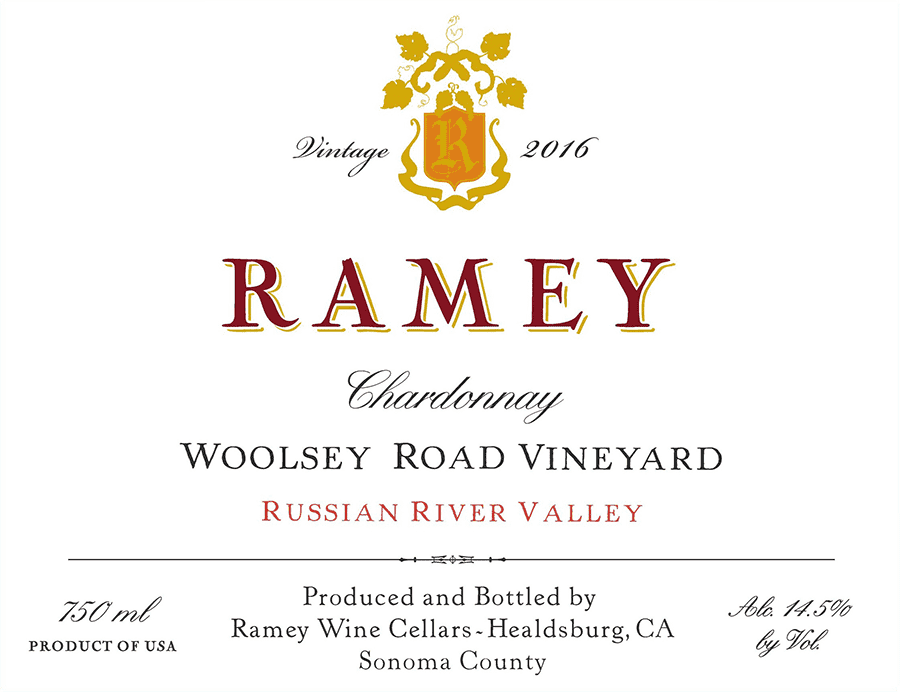 In my mind, Ramey is one of the top wineries in the United States."
– Antonio Galloni | vinous | February 2014
Ramey Wine Cellars was founded in 1996 by David Ramey and his wife Carla. After sixteen years making wine in Sonoma County, and firmly establishing Matanzas Creek and Chalk Hill wineries in the marketplace, David crossed the Mayacamas to spend six years in the Napa Valley–first as winemaker for Dominus Estate and project manager for the construction of their new winery; then helping Leslie Rudd reshape the Girard Winery into Rudd Oakville.
Over the years, David has helped pioneer traditional, artisan winemaking techniques in California during a period when making wine by the University book was the norm.  His efforts have helped shape the way many wines in the United States are made today, including the elimination of skin contact for most white grapes; the use of oxidized juice in making white wine; sur lie aging of white wines in barrel; malolactic fermentation of Chardonnay; native yeast fermentations; harvesting fully mature fruit; eliminating acidification of red wines; and bottling without filtration.
David's groundbreaking work with indigenous yeasts, sur lies aging and malolactic and barrel fermentation yielded a new California style that was richer, more lush and silky smooth than previously known. As a result, he created a benchmark style now emulated by many.
"To make great wines, he takes chances, often harvesting his grapes at the last possible moment. The resulting wines are praised among colleagues, consumers and the media alike."
Chilean Seabass, Caramelized Fennel & Roasted Lemon Plugrá Butter
Chilean Sea Bass poached in Verjus with julienned caramelized fennel-topped with a roasted lemon Plugrá butter sauce, garnished with lemon balm and preserved Meyer lemons.
Chardonnay "Russian River", Ramey Wine Cellars, Sonoma Valley, 2016
Chardonnay "Sonoma Coast", Ramey Wine Cellars, Sonoma Valley,  2016
Chardonnay "Hyde Vineyard·Carneros", Ramey Wine Cellars, Sonoma Valley, 2017
Wild Mushroom Ravioli, Bacon Lardons, Beech Mushrooms, Sundried Cherry Glace de Viande
Wild mushroom raviolis filled with seasonal wild mushrooms garnished with petite beech mushroom, sundried cherries glace de viande, bacon lardons.
Pinot Noir "Russian River", Ramey Wine Cellars, Sonoma Valley, 2016
Char-Grilled Hudson Valley Quail, Mountain Huckleberry Glace de Viande
Char-grilled breast of quail filled with a huckleberry & root vegetable stuffing, sunchoke mousseline, topped with a mountain huckleberry and quail glace de viande, fried sunchokes curls.
Syrah "Sonoma Coast", Ramey Wine Cellars, Sonoma Valley, 2016
Roast Loin of Breckenridge Lamb, Whole Grain Mustard Mint Glace de Viande
Roast loin of lamb lightly peppered served with an apple potato mousseline topped with a whole grain mustard and seasonal mint lamb glace de viande
Cabernet Sauvignon, Ramey Wine Cellars, Napa Valley, 2016
Kobe Beef Short Rib, Red Wine Pancetta Bacon Glace de Viande
Braised short ribs served in its natural juices with red wine and Pancetta bacon, stewed lentils and aromatic spices with a jardinière of braised, shallots, fennel and turnips.
Red "Claret", Ramey Wine Cellars, Napa Valley, 2016
Red "Annum", Ramey Wine Cellars, Napa Valley, 2014
Delarobi Fruit Tart, Marion Berry Sorbet
A fruit tart filled with an almond frangipane topped with pastry cream with seasonal strawberries, raspberries, blackberries and kiwi, topped with an apricot glaze, Marion berry sorbet, berry coulis
$130 per person Tax & Gratuity not included