The Odette Winemaker Jeff Owens will present the wines at this dinner. Jeff has worked at each of these wineries since 2006
and became the head winemaker at Odette in 2012. His wines are spectacular.

With PlumpJack, Cade & Odette Wineries
Thursday, April 23, 2020 • 6:30 pm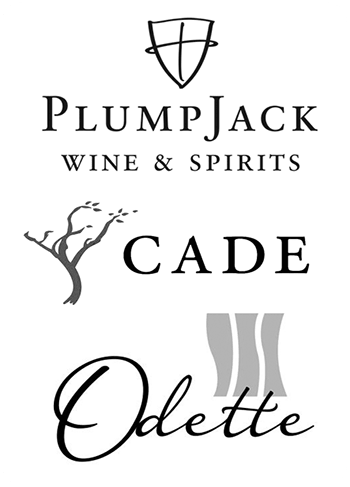 The Napa Valley and Cabernet Sauvignon are so intrinsically linked that it is difficult to discuss one without the other. Although Cabernet has many important outposts throughout the wine world, nowhere else has it achieved such success (and, at the highest end, commanded such lofty prices) as in Napa. Here, it is responsible for bold, opulent, and dark- fruited wines with grippy tannins and a healthy dose of alcohol. The best examples can age for decades. Each of Napa's smaller sub-AVAs imparts a different character to Cabernet. That said we welcome the Plumpjack Group to Chez François, featuring their three wineries' distinctive AVAs in the Napa Valley.
Established in 1995 PlumpJack Winery sits squarely in the heart of Napa Valley's renowned Oakville region, surrounded by a 42-acre estate vineyard highly-regarded for the quality of its Cabernet Sauvignon. Both their winery building and their vineyard date back to the 1800s.
With a shared vision the owners of Plumpjack imagined the addition of a complementary estate vineyard to the valley floor terroir of their Oakville estate. In 2005, that dream came to fruition in the form of a 54-acre estate, elevated high above the fog line, on the dramatic slopes of Howell Mountain – it would become CADE Estate Winery. Tucked into the dramatic palisades of the Stags Leap District, sits Odette Estate on 45 voluptuous acres. Odette rounds out the trio of wineries committed to producing full-bodied Cabernet Sauvignons that are notable for the combination of power and elegance, while simultaneously showcasing the unique properties of the AVA.
Goat Cheese Mango Ravioli, Peekytoe Crab & Pink Grapefruit Timbale
Mango ravioli filled with farmhouse goat cheese, served with a Peekytoe crab and ruby red grapefruit timbale flavored with a citrus vinaigrette, topped with micro baby arugula, citrus essence.
Sauvignon Blanc, Cade, Napa Valley, California, 2018
Sautéed Chilean Sea Bass, Bosc Pear & Lemon Verbena Salsa Cruda
Sautéed Chilean sea bass sprinkled with citrus essences of lemon, lime and orange, served on a Bosc Pear and lemon verbena salsa cruda, toasted almond Plugrá butter sauce.
Chardonnay, Plumpjack, Napa Valley, California, 2018
Ohio Proud Braised Short Rib Steamed Bun, Sauce au Naturel
Slowly cooked Ohio proud boneless short rib served in a steamed bun.
Petite Sirah, Adaptation, Napa Valley, California, 2017
Veal Cochella, Red Wine Spring Truffle Sauce
Roulade of veal, stuffed with a spinach and veal forcemeat, wrapped in applewood smoked bacon, wild mushroom duxelle, sauced with a red wine truffle sauce.
Cabernet Sauvignon, Cade, "Howell Mountain", Napa Valley, California, 2017
Cabernet Sauvignon, Plumpjack, "Oakville", Napa Valley, California, 2017
Roasted Certified Angus Beef® Strip Loin, Hen of the Woods
Thinly sliced roasted strip loin, lyonnaise fingerling potatoes finished with a Hen of the Woods mushroom Cabernet Sauvignon wine reduction.
Cabernet Sauvignon, "Adaption", Napa Valley, California, 2017
Cabernet Sauvignon, Odette, "Stag's Leap District', Napa Valley, California, 2016
Meyer Lemon Panna Cotta, Seasonal Fruits
An Italian dessert flavored with Meyer lemons served with seasonal fruits and a berry coulis.
Limoncello Francois
$155 per person Tax & Gratuity not included