Upstairs at Touché and The Parisian Room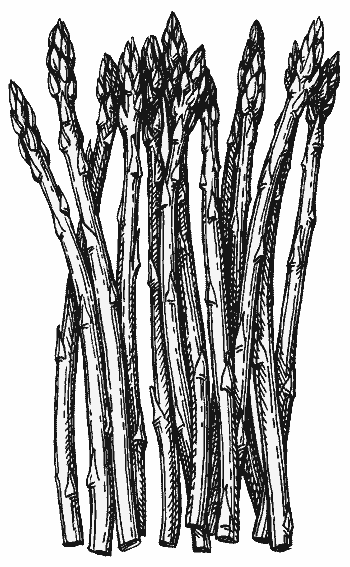 With Farmer Steve Smith Friday, May 22, 2020 • 6:30 pm
We love farmers with passion! For twenty years our good friend Steve Smith has been growing Asparagus in LaGrange, Ohio. It took him some time to fine-tune his skill at growing outstanding asparagus in Northeast Ohio but his perseverance paid off and for the past five years he has supplied us with remarkable asparagus. We thought it might be interesting to host a dinner with Steve featuring his asparagus steamed, pan-sautéed, roasted, grilled, fried and purréed in five-course dinner featuring fabulous white wines from around the world.
Garden asparagus (Asparagus officinalis) is a herbaceous perennial plant that is a member of the lily family. The slender spears with their pointed, scaled tips that are eaten are actually the young shoots of the plant. If left to grow, these become a giant, feathery fernlike plant that dies back in the fall.
Asparagus plants grow throughout the world. The biggest producers are China, Peru, Germany, and the U.S. They thrive in temperate climates where the ground freezes. The spring thaw and warming temperatures prompt the spears to emerge from the ground. These are harvested once they reach 6-8 inches tall and the thickest spears are a half- inch thick. They start out thin, get thicker as the season progresses, then taper off again; harvest stops when the spears grow only to the thickness of a pencil.
Asparagus, Jamón Ibérico, Manchego Cheese
Steamed asparagus wrapped in Ibérico ham, herb vinaigrette and shaved 12-month-aged Manchego cheese.
Grüner Veltliner "Am Berg", Weingut Ott, Wagram, Austria, 2018
Cream of Asparagus Cappuccino, Montrachet Goat Cheese Espuma
Cream of asparagus soup topped with goat cheese foam.
Sancerre, Pascal Jolivet, Loire Valley, France, 2017
Tempura Asparagus, Aïoli Sauce
Tempura battered asparagus spears, drizzled with garlic Aïoli sauce.
Chablis "Vaudon", Joseph Drouhin, Burgundy, France, 2016
Asparagus & Pancetta Bacon Quiche, Traditional Hollandaise Sauce
A flaky pie crust, filled with a savory custard with asparagus and pancetta bacon, eggs, cream, shallots and Gruyère cheese finished with a Hollandaise sauce.
Pinot Blanc, Albert Mann, Alsace, France, 2016
Veal Oscar, Béarnaise sauce
Sautéed breaded medallion of Provimi veal tenderloin topped with steamed asparagus, Maine Peekytoe crab and Bearnaise sauce.
Estate Riesling "Trocken", Dönnhoff, Nahe, Germany, 2018
Asparagus Panna Cotta, Strawberry Rhubarb Chutney
Sweeten Cream flavored with asparagus, topped with seasonal strawberry rhubarb chutney.
Muscat de Alexandria "No1 Selección Especial", J . Ordóñez, Málaga, Spain, 2016
$90 per person