An Evening with Rombauer Vineyards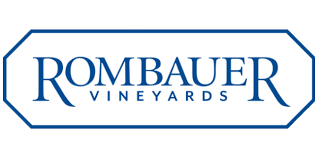 with Reagan Rombauer Blackwood
Wednesday, October 13, 2021
When founders Koerner and Joan Rombauer moved their two children, two horses, and five dogs to Napa Valley in 1972, they arrived armed with an appreciation for the intimate relationship between food and wine. Their appreciation stemmed from Koerner's great aunt Irma Rombauer having authored the internationally renowned cookbook the Joy of Cooking and his ancestors originating from the winegrowing region of Rheingau, Germany, where wine is considered an essential complement to a meal.
Appreciation bred passion, and Rombauer Vineyards was established in 1980.  Forty years later, the winery remains owned by second-and third-generation members of the family.
2020 was a special year for all of us at Rombauer Vineyards, as we marked our 40th year of making wine in the Napa Valley.  We are humbled by how far we've come since those early days, growing from a handful of barrels in Koerner Rombauer's garage to a wine brand beloved by many around the world.  The recognition we have achieved is the result of 40 years of dedication to quality, passion, investment, and customer engagement.  Following in the footsteps of our founders, Koerner and Joan, and now with the second-and third-generation family members, we are grateful for the journey.
As we celebrated this historic moment, we are mindful that Rombauer Vineyards would not be what it is today without the support of our customers and partners around the world.  Your loyalty, friendship, and patronage have inspired and guided us through 40 years of business.  Your devotion to our family, our staff, and our delicious wines have allowed us to invest in and continually improve our vineyards and winemaking to elevate our customer experience.  You have enabled us to pursue our vision of honoring the heritage of the historic regions in which we farm, acting as stewards of the land, and giving back to these communities in a meaningful way.
Thank you for your unwavering support and thank you for sharing The Joy of Wine with us for over 40 years. Our family looks forward to many more years in pursuit of our twin passions—crafting exceptional wines and sharing them with you, our dear friends.
With gratitude,
The Rombauer Family and Staff
---
Soufflè au Fromage              
Farmhouse Goat Cheese and Parmesan Reggiano cheese, oven-baked in a ramekin with an apricot/honey marmalade topped with grapefruit zest.
Sauvignon Blanc, Rombauer, Napa/Sonoma County, California, 2019
Char-Grilled Ora King Salmon, Corn Nuts & Herb Butter Sauce
Char-grilled New Zealand king salmon served corn salsa cruda topped with toasted corn nuts and a truffle butter sauce.
Chardonnay, Rombauer, Napa/Sonoma County, California, 2019
Chardonnay "Proprietory", Rombauer, Napa/Sonoma County, California, 2019
D'Artagnan Coturnix Quail, Marionberry
Char-grilled boneless breast of Hudson Valley Quail filled with quail and marionberry stuffing with root vegetables finished with a marionberry reduction and a baby watercress salad.
Merlot, Rombauer, Napa/Sonoma County, California, 2019
Teres Major Filet "Sous Vide", Grille, Cabernet Truffle Wine Sauce
Teres Major, grilled, served over a mushroom duxelle with a seasonal wild mushroom and Jerusalem artichoke potato mousseline, finished with a red wine truffle sauce.
 Cabernet Sauvignon "JD", Rombauer, Napa, California, 2019   
Cabernet Sauvignon "Diamond Selection", Rombauer, Napa, California, 2019 
Kobe Beef Short Rib, Red Wine Pancetta Bacon Glace de Viande  
Braised short ribs served in its natural juices with red wine and Pancetta bacon, stewed lentils and aromatic spices with braised, shallots, fennel and carrots.
Zinfandel, Rombauer, Napa, California, 2019
Zinfandel "Twin Rivers El Dorado Vnyd.", Rombauer, Sierra Hills, California, 2019
White chocolate Mousse, Seasonal Blackberries
An almond tuille basket filled with a quenelle of white chocolate mousse garnished with seasonal blackberries.
$155/Per Guest | Tax & Gratuity not included.