Italy is home to some of the oldest wine-producing regions in the world, and Italian wines are known worldwide for their broad variety. Italy, closely followed by France, is the world's largest wine producer by volume.
Featuring Blair Taylor of Enotec Imports
Thursday, August 10, 2017 • 6:00 pm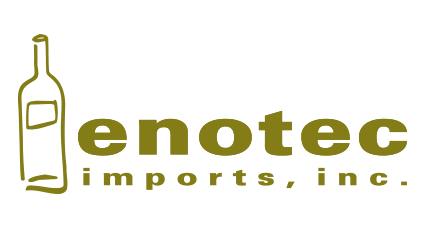 Enotec Imports is an Italian fine wine import company representing boutique and mid-size, family owned and operated wineries. Their focus is on quality wines of distinction, soul and tradition that reflect the unique character of Italy's diverse regions. Enotec's comprehensive portfolio includes over 75 indigenous varietals from some of the most prominent growing regions throughout Italy. Their wineries strive to maintain the winemaking traditions of their region in order to produce wines of the highest quality and the best value.
Their producers are committed to using sustainable growing methods and earth-friendly farming. They believe that small estates can offer the highest quality and uncompromising standards at every step of the growing and winemaking process.
Enotec Imports represents both 'classic' and 'new generation' winemakers in their portfolio. Regardless of the wine making technique, each style produces expressive wines of character and balance that reflect their place of origin.
Hawaiian Ahi Tuna Tartar, Bartlett Pear & Baby Arugula
A spicy timbale of Hawaiian Ahi Tuna tartar flavored with Bartlett pears with a citrus vinaigrette, garnished with baby arugula and Pecorino Romano cheese, potato gaufrettes.
Favorita "Fallegro", Gianni Gagliardo, Piemonte, Italy, 2015
Maple Brook Farm Burrata, Petit Seasonal Greens & Heirloom Tomatoes
Petit Erie County summer field greens mixed with heirloom tomatoes tossed with a basil vinaigrette dressing, topped with Vermont Burrata.
Fiano "Sigillo Apio", Antica Massria Winery, Campania, Italy, 2015
Cream of Ohio Corn Soup Cappuccino, Mascarpone Cheese Espuma
Purée of Huron County sweet corn Cappuccino with Mascarpone cheese foam, toasted corn nuts.
Pinot Bianco, Caldaro, Trentino • Alto Adige, Italy, 2015
Oxtail Agnolotti, Summer Wild Mushrooms & Oxtail Glace de Viande
Piedmontese ravioli filled with roasted oxtail and root vegetables tossed with a brunoise of oxtail, summer wild mushrooms, root vegetables, fine herbs and oxtail glace de viande.
Rosso "Oltre", Terra Rossa, Montalcino • Toscana, Italy, 2014
Primitivo di Mandura, Antica Massria, Puglia, Italy, 2014
Braised Lamb Shank, Jardinière
Braised lamb shanks, simmered in its natural juices served over stewed cannellini beans with a mirepoix of root vegetables.
Barolo "GG", Gianni Gagliardo, Piedmont, Italy, 2012
Brunello di Montalcino, Terra Rossa, Montalcino • Toscana, Italy, 2010
Amarone Valpolicella Classico, Degani, Veneto, Italy, 2012
Strawberry & Raspberry Delarobi Fruit Tart, Raspberry Sorbet
A tart filled with almond frangipane topped with pastry cream, seasonal strawberries, and raspberries topped with Chantilly cream served with raspberry sorbet and berry coulis.
Moscato/Brachetto Rosé, Villa M, Piemonte, Italy, NV
$110 per Person Tax & Gratuity not included.
Share