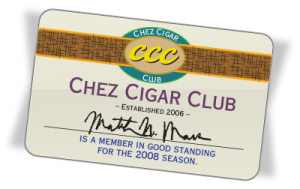 DEAR CIGAR CLUB MEMBER,
Our annual "Smoker" will take place Monday, May 19, 2014. Please contact us if you are interested in joining us. This is always a great excuse to get together with friends or business acquaintances to smoke great cigars, sip fine whiskey, dine on delicious cuisine and discuss the upcoming sports year in Ohio.
This is a private party for Chez Cigar Club members only. If you are interested in attending this event or becoming a member, please call us at 440-967-0630.