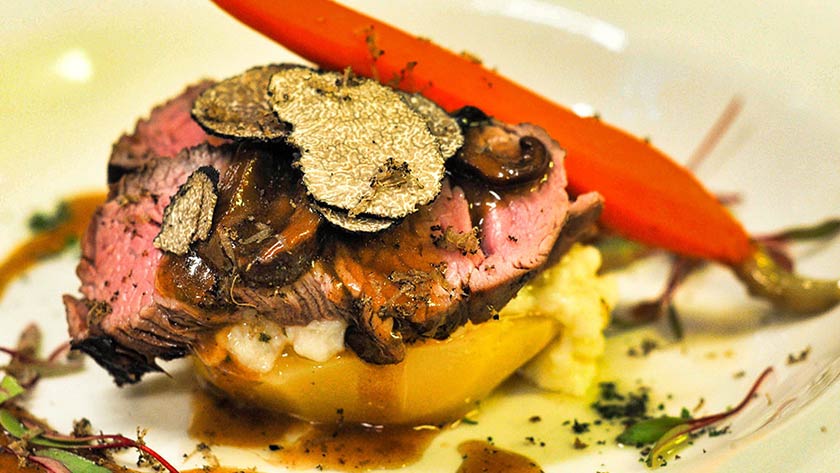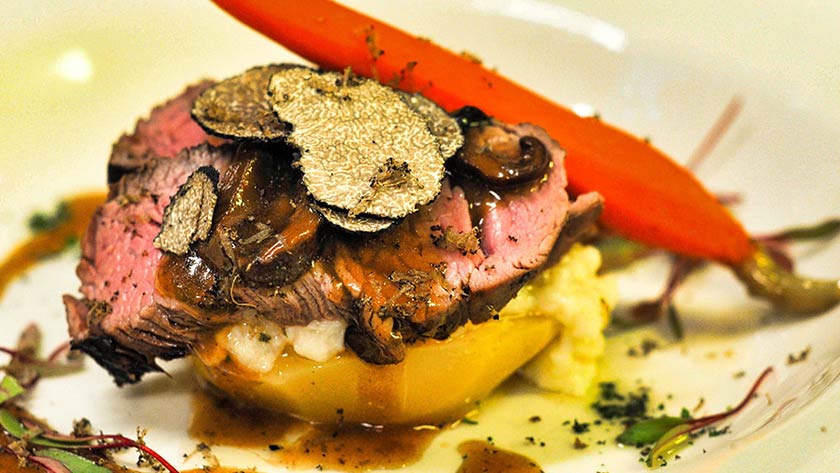 Hors d'oeuvres
Soupe a L'Oignon Gratinée $12
French onion soup with toasted crouton and Gruyère cheese.
Homard Bisque, en Croûte $14
Rich lobster bisque seasoned with garlic, shallots and tarragon topped with puff pastry.
Artichaut à l'Alouette $14
California artichoke hearts, sautéed, stuffed with alouette cheese, lightly breaded with hazelnuts and served with a Dijon honey mustard/raspberry sauce.
Escargot Basilic $15
Snails served in the shell with a blend of sweet basil, garlic, shallots and sweet butter.
Homard et Saint André en Croûte $20
Maine lobster and Saint Andre cheese wrapped in puff pastry, baked, served with a black currant sauce.
Coquilles Saint-Jacques à la Parisienne $20
Maine sea scallops, sautéed, served in a fish veloute sauce, with mushrooms, seasoned with garlic, shallots, Dry Sack Sherry, and Reggiano cheese. Served in a natural sea shell with duchess potatoes.
Martini de Crevettes $22
Shrimp cocktail served with and avocado, cucumber, red onion salad & cocktail sauce.
Carpaccio de Filet de Beouf aux Champignons Sauvage $20
Carpaccio of "Prime" beef tenderloin, topped with aged balsamic vinegar, Alba white truffle oil, shave Parmigiano-Reggiano cheese, cracked black peppercorn and sautéed wild mushrooms.
Truite Fumée, Cécile $16
Natural apple wood smoked Rainbow Trout served with marinated asparagus and a chive infused olive oil.
Pâté Maison $16
Chicken liver pâté with green peppercorns, hard boiled egg, red onion, mushrooms, caperberries, calamata olives, cornichons and crackers.
Entrees
Fruits de Mer  $Market Price
Our daily special features seasonal fresh seafood imported from around the world.
Seared filet of Atlantic
Salmon topped with fresh horseradish crust and an herb butter sauce.
Assiette de Coquillage au Basilic $45
Medley of shellfish including, cold-water shrimp, Maine sea-scallops, Prince Edward Island mussels, Pasta Neck clams and escargot served over spinach fettuccini with mushrooms, diced tomatoes, Calamata olives and Parmigiano-Reggiano cheese, basil-infused olive oil..
Escalope de Veau aux Fruits de Mer $45
Sautéed breaded medallions of Provimi veal tenderloin with Maine lobster, cold water shrimp, Maine sea scallop and asparagus spears, topped with a Normandy wine sauce with fresh dill.
Ris de Veau Grenobloise $42
Sautéed medallions of veal sweetbreads in a caper/crouton lemon wine butter sauce.
Suprême de Volaille aux Noisettes et aux Truffles $42
Roasted Bell & Evans Frenched-breast of free-range chicken, served over an herb risotto, topped with woodland wild mushrooms, truffle butter sauce and seasonal truffles.
Ferme Feuille d'érable Magret de Canard Rôti, Cerise Glace de Viande $45
A lightly-peppered duck breast served over a hazelnut sweet potato mousseline cake, topped with Montrachet goat cheese and sauced with a Frangelico and cherry duck glace de viande.
Carré d'Agneau à la Provençale $52
Roasted Australian rack of lamb, topped with a roasted tomato-herb crust, summer beans, braised cipollini onions, eggplant, garlic, and olive sauce au natural.
Filet de Bœuf Naturel, Glace de Viande $45
Center-cut filet mignon, grille, served over potato galettes and mousseline potatoes, garnished with seasonal vegetables and finished sauce au natural.
Entrecôte of Beef, Au Poivre Sauce $52
Char-grilled Certified Angus Beef® strip steak served with a cognac cream and crushed black peppercorn sauce with seasonal mushrooms, vegetables and lyonnaise fingerling potatoes.
Filet de Boeuf Wellington à la Périgourdin $54
Center-cut filet mignon, grille, wrapped in puff pastry with seared Hudson Valley Foie Gras, mushroom duxelle and black truffles with sauce Périgueux.
Pricing and availability subject to change.