with Master Sommelier Matt Citriglia
Thursday, September 25, 2014 • 6:30 pm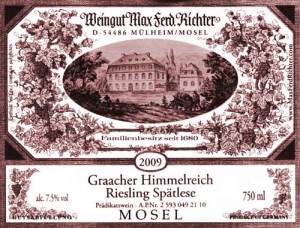 Please join us as we explore the wines of Germany.
Master Sommelier Matthew Citriglia will lead us in a tasting of ten wines. We have not limited this dinner to just Riesling, in fact we will taste three other alternative white varietals as well as a Pinot Noir (originally the first varietal planted in Germany was Pinot Noir). One of Matt's specialties is the wines of Germany, so we were thrilled when he said he would co-host this event.
Matthew's 22 years of experience in the wine industry includes retail ownership, as well as restaurant and wholesale management. His thirst for knowledge drove him to compete against some of America's best sommeliers at several sommelier competitions, and in February 2002, Matthew become a member of the prestigious Court of Master Sommeliers. His passion for service and education led to the creation of The Winementor, Ltd, focused on bringing honor back to the art of service through a series of training seminars geared toward motivating and educating wait staff.
Sekt "Sparkling", Max Ferd. Richter, Mosel, Germany, 2008
Tuna Tartar & Smoked Salmon Canapés
Tuna tartar served in a potato crisp and smoked salmon topped with
crème fraîche and caviar on toasted brioche.
Reisling "Wehlener Sonnenuhr Kabinett "" Max Ferd. Richter, Mosel, Germany, 2009
Reisling "Wehlener Sonnenuhr Spatlese" Max Ferd. Richter, Mosel, Germany, 2012
Roasted Heirloom Carrot & Curry Cappuccino
Caramelized heirloom carrots puréed with cream, flavored with curry, with a ginger foam.
Reisling "Mulheimer Sonnenlay·Kabinett", Max Ferd.Richter, Mosel, Germany, 2000
Quiche Lorraine, Hollandaise
A flaky tart filled with an egg custard flavored with Gruyère cheese, applewood smoked bacon and leeks, topped with a classic hollandaise sauce.
Sylvaner "Dry", Hans Wirsching, Franken, Germany, 2012
Pinot Blanc, Ökonomierat Rebholz Estate, Pfalz, Germany, 2012
Pork Tenderloin with Sautéed Apples
Roast tenderloin of pork served over spaghetti squash with sautéed apples, sun dried raisins and cherries.
Scheurebe "Dry", Pfeffingen Estate, Pfalz, Germany, 2012
Riesling "Dry", Pfeffingen Estate Pfalz, Germany, 2012
Canard & Veau Napoleon, Glace de Viande
Roasted duck & veal layered with potatoes galettes served with a savory veal and duck glace de viande, garnished with micro field greens and flavored with duck crackling.
Pinot Noir "B", Becker Estate, Pfalz, Germany2012
Riesling "Weilberg·Grand Cru", Pfeffingen Estate, Pfalz, Germany
Apple Frangipane Tart, Apricot Glaze
An apple frangipane tart served with Madagascar French vanilla bean ice cream sauced with an apricot glaze with seasonal mint.
Scheurebe "Herrenberg·Beerenauslese", Pfeffingen Estate, Pfalz, Germany, 2005
$100.00 per Person Tax & Gratuity not included.
[fblike style="standard" showfaces="false" verb="like" font="arial"]