with Pio Cesare & Produttori del Barbaresco
Thursday, November 7, 2013 • 6:30 pm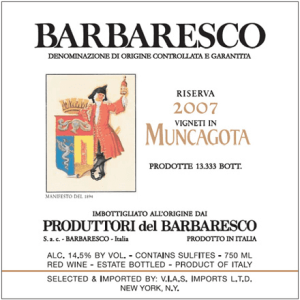 Our annual "Truffle Season" begins Thursday November 7, 2013 with wine tasting featuring the Pio Cesare Winery and Produttori del Barbaresco of Piedmont, Italy. We will compliment these wines with a six-course "Truffle" menu created by Chef John d'Amico.
The Pio Cesare winery was founded in 1881 by Cesare Pio. He was one of the very first wine producers to believe in the great potential and quality of Barolo, Barbaresco, Barbera and in the other great wines of Piedmont, Italy. Cesare Pio in the second portion of 1800s, was among the very first winemakers to produce these wines with a philosophy that was dedicated to the terroir and the strictest quality of the wine.For five generations, the Pio Cesare family has been producing traditional Piemontese wines in its ancient cellars, located in the centre of the town of Alba.
Before 1894, Nebbiolo grapes were sold to make Barolo wine or simply labeled Nebbiolo di Barbaresco. But in 1894, Domizio Cavazza, headmaster of the Royal Enological School of Alba and a Barbaresco resident, created the first cooperative, the Cantine Sociali, by assembling together nine Barbaresco vineyard owners to make wine in the local castle that he owned. He understood well the differences between the same grape, the Nebbiolo, grown in the different areas of Barolo and Barbaresco and, for the first time, recognized it on the wine label. In 1958, the priest of the village of Barbaresco, recognizing that the only way the small properties could survive was by joining their efforts, assembled together nineteen small growers and founded the Produttori del Barbaresco. United once again, the small growers continued the work started by Domizio Cavazza, producing only Barbaresco wine and enhancing both the reputation of the wine and the village.
Scrambled Eggs & Truffles
Scrambled Rose Acre Farms brown eggs, seasoned with truffle butter, garnished with black "Burgundy" truffles and white truffle oil.
Arneis Langhe, Pio Cesare, Peidmont, Italy, 2009
Sea Scallop En Croûte, Black Truffle Butter
A Maine diver sea scallop, baked in its natural shell, filled with sliced black "Burgundy"
truffles and truffle butter, wrapped in puff pastry.
Vintage Tunina, Silvio Jermann Friuli, Italy, 2007
Truffle Cappuccino
A purée of fall wild mushrooms and black "Burgundy" truffles seasoned with white truffle oil and finished with steamed cream.
Oltre, Pio Cesare, Peidmont, Italy, 2009
Nebbiolo, Produttori, Piedmont, Italy, 2007
Wild Mushroom, Duck and Truffle Ravioli, Truffle Butter Sauce
Mushroom ravioli made with wild mushroom pasta, filled with fall wild mushrooms, duck confit and black "Burgundy" truffles, topped with a truffle butter sauce and shaved Parmigiano-Reggiano cheese.
Barberesco, Produttori, Piedmont, Italy, 2007
Barolo, Pio Cesare, Peidmont, Italy, 2009
Roast Tenderloin of Veal, Sauce Périgueux
Tenderloin of Wisconsin Veal, served over a delicata squash, filled with white and black truffle risotto and finished with chanterelle mushrooms and a truffle reduction sauce.
Barberesco Riserva "Montefinco", Produttori, Piedmont, Italy, 2007
Barberesco Riserva "Pora", Produttori, Piedmont, Italy, 2007
Barberesco Riserva "Muncagota", Produttori, Piedmont, Italy, 2007
Bartlett Aux Poires
Poached Bartlett pear served with an almond cookie and French vanilla bean ice cream and a Moscato-pear glaze.
Moscato d'Asti, Pio Cesare, Peidmont, Italy, 2009
$135 per person Tax & Gratuity not included
[fblike style="standard" showfaces="false" verb="like" font="arial"]