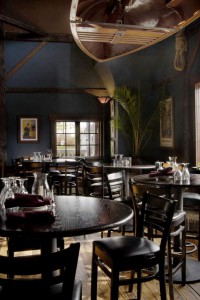 Specials this Spring!
Hors d'œuvres
Assiette de Charcuterie – $17
Saucisson, country pâte and chicken liver pâté served with marinated relishes and shaved Parmigiano-Reggiano cheese, crostini and Dijon mustard.
Maine Diver Coquille, Homard Risotto aux Herbes – $15
Seared Maine sea scallop, served with lobster risotto and garnished with micro greens.
Martini de Crevettes – $19
Shrimp cocktail, served with an avocado, cucumber and red onion salad with cocktail sauce.
Fruits au Fromage en Philo – $14
Papaya & mango chutney with goat cheese, wrapped in phyllo pastry and citrus-mixed field greens.
Escargots au Basilic – $14
Snails with seasonal wild mushrooms with a blend of sweet basil, garlic, shallots and sweet butter.
Coquilles Saint Jacques à la Parisienne – $15
Maine Sea Scallops, served in a fish velouté sauce, with mushrooms, garlic and shallots, Dry Sack Sherry and Parmesan Reggiano cheese, served in a sea scallop shell with duchess potatoes.
Raviolis de Homard – $15
Egg pasta Raviolis, stuffed with lobster, topped with a truffle butter sauce and garnished with shaved Parmigiano-Reggiano cheese.
Moules Fumé Saumon – $14
Steamed Prince Edward Island mussels tossed with a Normandy cream sauce, smoked salmon, white wine, garlic and chopped parsley. Topped with a fleuron.
Potages & Salades
Soupe à L'Oignon Gratinée, $10
A terrine of French onion soup with a toasted crouton topped with Gruyère cheese.
Homard Bisque, en Croûte, $13
Rich lobster bisque seasoned with tarragon topped with puff pastry.
Soupe du Jour – $11
A seasonal soup of the day.
Tartare de Thon – $16
A spicy timbale of Yellowfin tuna tartar, tossed with citrus juice, Bermuda red onions, pickled ginger, chives and micro greens. Served with potato gaufrettes.
Chez François Hiver Grande Salade, $11/Petit $6
Winter Erie County greens tossed with aged balsamic vinaigrette dressing, English cucumbers, roasted beets, Bermuda red onions, hard boiled eggs, tomatoes and crumbled goat cheese.
Les Plats
Crevettes & Coquille Tagliatelle, $18
Sautéed shrimp, bay scallops, mushrooms and tomatoes served in a rich fish & herb butter sauce with whole wheat tagliatelle noodles with Parmigiano-Reggiano cheese.
Perche, Jicama Salade de Chou, $19
Perch lightly breaded with panko crumbs served over a jicama, cucumber and pickled ginger slaw, topped with a seasonal radish curl, citrus cayenne olive oil and Touché tartar sauce.
Gâteau de Crabe, Sauce Hollandaise, $17
Sautéed Maryland crab cake served over julienne squash topped with hollandaise sauce.
Braisé de Boeuf de Kobe de Côtes, Jardinière, $20
Braised short ribs served in its natural juices, with stewed lentils and a jardinière of root vegetables, garnished with a radish curl.
Chez François, Herbe Pain de Viande, $18
Baked meatloaf with pork, veal and ground chuck flavored with herbs and spices served over mousseline potatoes, topped with a rich Cabernet Sauvignon wine sauce.
Poulet Rôti Coq au Vin, $20
A classical chicken dish of roasted free-range chicken simmered in an applewood smoked bacon, Vidalia onions, seasonal mushrooms chicken stock and red wine, with mousseline herb potatoes.
Croque Monsieur, $13
A traditional Gruyère and baked ham sandwich, lightly egg battered and sautéed garnished with seasonal relishes and savory mixed field greens.
Les Desserts
Mousse au Chocolat Belgique, $9
A rich Belgium chocolate mousse, topped with Chantilly cream, chocolate straw and mint.
Fruit Sorbet, $9
Freshly made raspberry and passion fruit sorbet served over an almond tuile, sauced with a passion fruit and raspberry coulis, seasonal berries.
Creme Brule et Fruits – $9
A baked egg and vanilla custard topped with seasonal berries
Pricing and availability subject to change.