"Finesse to most Americans means light… But it doesn't mean that in France. It means harmony, balance, completeness."
A Tour de France Wine Dinner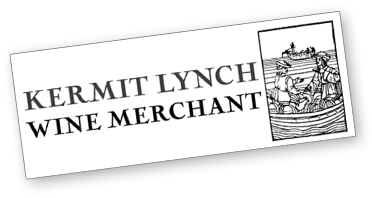 with Kermit Lynch Imports Thursday, March 24, 2011 6:30 pm
Join us Thursday March 24, 2011 as we feature the wines of Kermit Lynch Imports. We will feature twelve wines from eight regions throughout France. Chef John D'Amcio will feature a six-course dinner to match these terrific wines.
Kermit Lynch was born and raised in California. From his youth he remembers that his father and uncle worked for a winery, but he has no memory of anyone in his family drinking wine. The Lynch family was rich in preachers, too, but at communion they served Welch's grape juice, even though, as Kermit points out, Jesus turned water into wine, not into grape juice. In 1972 he opened a retail wine shop and later began importing and distributing nationally.
Prior to 1972, only large importing houses were importing French wines to the United States. The small wineries were left with selling their wines in France or selling there grapes to large Negotiates. There were very few importers of small, hand-crafted, family owned wineries in France. Kermit really opened the door for this type of importing and many of the leading boutique importers today worked for Kermit Lynch.
In 2000 he was named Wine Professional of the Year by the James Beard Foundation, in 1998 the French government presented him a medal and named him Chevalier de l'Ordre de Mérite Agricole, and in 2005 he received the Chevalier de la Légion d'Honneur. His book Adventures on the Wine Route, won the Veuve Clicquot Wine Book of the Year award.
Pre-Dinner wine tasting served with an assortment of savory cones filled with smoke salmon, Peekytoe crab and Alouette herb cheese.
[twocol_one]
English Pea Soup, Montrachet Goat Cheese and English Pea Quenelles
A bowl of seasonal English pea soup served with a Montrachet goat cheese and English pea quenelles topped with pea tendrils.
White Graves, Château Graville-Lacoste, GravesoBordeaux, France, 2008
Herb Crusted George's Bank Cod, Nantua Sauce
Seared George's Bank cod topped with an herb crust served with a brandy crayfish sauce and tarragon, garnished with micro chervil.
Pouilly-Fuissé "La CroixoVieilles Vignes", Domaine Robert-Denogent, Mâconnaiso Burgundy, France, 2008
Pot-au-feu, Jardinière of Vegetables
A combination of rabbit and duck served with stewed root vegetables and cannellini beans in a rich veal and vegetable broth with toasted crackling brioche.
Bourgogne Rouge "La Fortune Vnyd.", Domaine A&P De Villaine, Burgundy,France, 2006
[/twocol_one]
[twocol_one_last]
Australian Lamb Chop, Sauce aux Naturel
Roasted Australian lamb chop served over a potato mousseline with an applewood smoked bacon lamb glace de viande.
Châteauneuf-du-Pape, Domaine Vieux Télégraphe, Rhône Valley, France, 2008 Châteauneuf-du-Pape, Télégramme, Rhône Valley, France, 2008
Roulade of Veal Cohcella, Espagnole Sauce
A roulade of veal stuffed with ground veal, spinach and pâté de spices over a white bean and roasted vegetable purée, pancetta bacon Espagnole sauce.
Cahors, Clos La Coutale, Midi-Pyrénées, France, 2008 Bandol, Domaine Tempier, Provence, France, 2008
Chocolate Ganache Pâté, Black Currant Sorbet
A rich chocolate ganache pâté, spring berries and black currant sorbet.
Banyuls, Domaine La Tour Vieille Chateau, Banyul, France, NV
[/twocol_one_last]
[divider_flat]

$95 per person Tax & Gratuity not included
[fblike style="standard" showfaces="false" verb="like" font="arial"]