For years Mr. Jim Irwin would inquire if I wanted to display his famous Thistle #3 sailboat at Chez Francois. The legendary sailboat had been gathering dust in his warehouse for years and he felt that it should be displayed somewhere. I never thought I had the room for this boat, that is until we opened Touché . Touché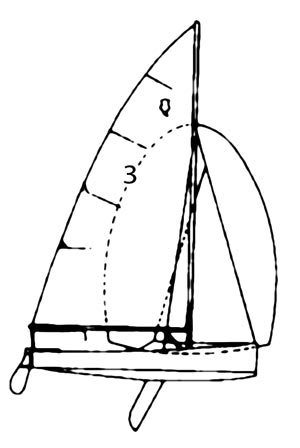 afforded the height and space…needed to display this cool boat, so in the summer of 2007 we securely fastened Thistle #3 from the ceiling of Touché.
The roots of the Thistle Class sailboat reach back to the 1930's when Gordon K. (Sandy) Douglass, the designer of the Thistle, Highlander and Flying Scot, raced against Uffa Fox, the famous English sailor, yacht designer and author. Sandy first went to England as a member of the U. S. Olympic rowing team and only later began racing sailboats, starting with sailing canoes and then sailing and designing International 14's in order to try and wrest the Prince of Wales Cup from Uffa Fox's English team.
After World War II Sandy, who was living in Vermilion, Ohio sensed that the returning soldier boys would want a three person sailboat to race, rather than the smaller two person International 14. He also realized that the high performance of the "14" should be retained in the new design. Working in the Sail Loft Building on the Vermilion River where Chez François Restaurant is currently located, Sandy designed and built the prototype for the Thistle. Helping him was Mr. John Lovett Sr. who also lived in Vermilion at the time.
The boat was scoffed by the old timers who proclaimed that the boat would never be able to handle the rough chop of Lake Erie and that it carried too much sail for safety. Sandy proved them all wrong in a now famous Bay Week of 1945 where he started last with all the smaller boats and in a heavy air race passed every boat ahead of him to finish first overall boat for boat.
Thus the class was born. Orders for the boat came in and The Douglass and Mcleod Boat Company was formed to produce the boats. The Thistle #3 was actually the first Thistle ever built. The prototype was destroyed. Sandy Douglas wanted hull #1, and Dick Shaw, charter member of Fleet Number 1 was anxious for boat #2. John Lovett Sr. didn't care what number he had, he just wanted a boat. So his, although the first one produced, was actually #3. The boat is now displayed at Touché of Chez François where it all started.